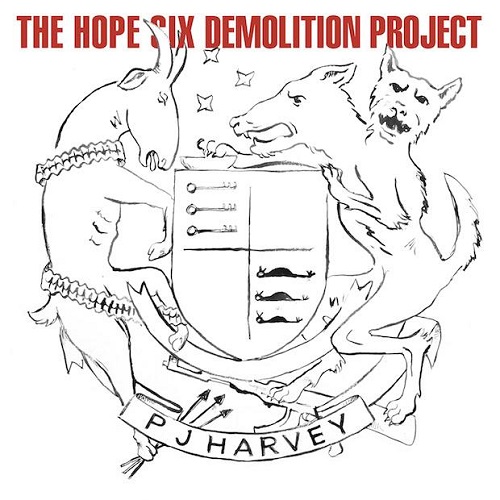 Az indie rock istennője visszatért! Méghozzá bármily meglepő legyen is, több mint öt év után, ennyi telt el ugyanis karrierje legutóbbi, és talán legmagasabb csúcspontja, a Let England Shake megjelenése óta. Az egy akkora remekmű volt, hogy még a b-oldalas daloktól is remegett az ember gyomra, és az ilyen ritka esetekben jól teszi az egyszeri hallgató / rajongó, ha minél kevesebb elvárással közelít az utódhoz, különben majdnem biztosan érkezik az óriási pofára esés. Nos, jelentem, szerintem sikerrel vettem az akadályt, és nem is ért semmiféle csalódás!
Mondjuk az amúgy is borítékolható volt, hogy egy bizonyos szint alá úgysem megy Polly-Jean, meg sejteni lehetett, hogy sodorja a lendület.
Nem kezdek dalonkénti elemzésbe, és nem is taglalom a mű hátterét, illetve tematikáját. Pusztán az összképre koncentrálva egyértelmű, hogy Harvey tovább vitte az előző lemez zenei irányvonalát, csak a líraibb, önmarcangolósabb részek háttérbe szorultak, és helyettük előtérbe kerültek a pattogós, katonás ritmusú, gyakran férfivokállal és fúvószenekarral kísért indulószerű nóták.
A hangulat így valamivel pozitívabb lett, bár nem zárható ki, hogy valakinek olykor könnybe lábadjon a szeme. Velem is meg tud történni például, ha a legelsőként kihozott dal videóját nézem (The Community of Hope, ld. lejjebb), igaz, nem a szomorúság, hanem valamiféle meghatottság, lenyűgözöttség okán.
Nem tagadom, egyelőre ez a dal a kedvencem az albumról, de több hasonló hangulatú várományos, meg néhány másmilyen is vár még a sorára, ahogy majd szép lassan felgöngyölítem a dolgokat, megtanulok érzelmileg kapcsolódni az egyes dalokhoz, meg ilyenek. Ami biztos, hogy stílusilag elütő, rettentő laposnak tűnő, pláne kellemetlen szám egy darab sincs!
Énekesnőnk kőkeményen hozza tehát a formáját, és nem érződik a szándék, hogy valaha is meg akarna állni. És ez így is van rendjén, kellenek a popzenének az ilyen bombabiztos pontok, akarom mondani hegyormok!
Ha pedig megkérdezem magamtól, hogy - sikeresen túllépve az ismerkedés veszedelmein - vajon most mi a véleményem a múltkori remekmű, és az új, furi című alkotás minőségbéli viszonyáról, akkor egyelőre csak vakaródzom. Illetve 2011-ben az nagy megújulás volt, most ilyenről szó sincs (viszont nem is lett volna szükséges), én pedig természetemből fakadóan jobban szeretem a szomorkodást, és ez is a Let England Shake felé billenti a mérleg nyelvét, másról meg nem igen tudok még számot vetni. De ettől még ez egy top album 2016-ban, és simán benne van a pakliban, hogy elegendő idő elteltével mégiscsak a The Hope Six Demolition Project mellett fogom letenni a voksomat, mert egyre több pillanatába kezdek beleszerelmesedni!