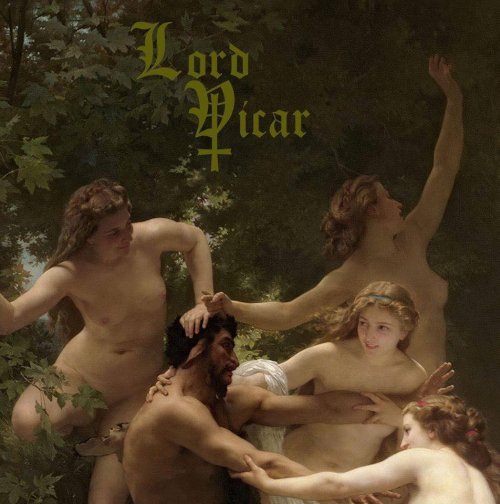 Nem akármilyen doom csapat a Lord Vicar, ugye itt gitározik Kimi Kärki az Ornéból, na meg a megboldogult kultikus Reverend Bizarre-ból, az énekes Chritus pedig már adott ki lemezt a Count Ravennel, és valamikor réges-régen magával a Saint Vitusszal is (most pedig - néhány nap eltéréssel - a Goatesszel is kihozzák a második albumukat, szintén zseniális borítóval, csak belehallgatva nem kapott el, így előreláthatólag nem írok róluk). Szóval az "alapanyag" adott.
Meg persze eleve van már egy két nagylemezes múltjuk, bár eltelt némi idő, a közvetlen előd Sign of Osiris 2011-es. Persze kábé ott folytatják, ahol abbahagyták. Talán kicsit kevesebb az "ozzys" rész (ezen a kifejezésen gondolom nincs mit magyarázni), de azért van belőle, aztán a gitárok mintha puhábban szólnának (bár még egyelőre egy elég ergya minőségű verzióhoz van szerencsém), és meglehet, hogy amúgy is több az akusztikus, és kevesebb a horzsolóan riffes rész. Mindennek köszönhetően gond nélkül merem a Gates of Flesh-t szépnek nevezni, bár azért annyira nem gyönyörű, mint a négy nimfa (avagy a szatír, ízlés dolga) a borítóhoz kölcsönvett Bouguereau-festményen (amiből a "kockaforma" kedvéért szégyenszemre alaposan vágtak, például a jobb alsó tündér-féleség igen csinos fenekét sem látni itt). 
Egyébként olyan túl sokat nem tudok mondani a zenéről, legalábbis ami ne volna közhelyes. Mint például, hogy igen komótos tempóban cammog, amikor néha rakenrollosabb (azok az ozzys részek), akkor azért elcsípi a középtempót, az akusztikus részek a legszebbek, Chritus jó néhány féle hangszínen megszólal, és ha nem is képzett énekes, érzi (no meg réges-régóta éli) a műfajt, és még az is igaz, hogy bár ezen az albumon is 7 dal van, mint két elődjén, hosszra csak a 2/3-át teszi ki azoknak, köszönhetően a rövidebb daloknak, bár így is akad egy 7 meg egy 10 perc fölötti. Huhh!
Inkább meg kéne hallgatni, csak még ugye egy jó hónap a megjelenésig, úgyhogy most még semmit sem tudok idetenni legálisan, hanem csak majd. Úgyhogy majd. (Amúgy itt megjegyzem, hogy a minap tök szépen frissítgettem a dolgokat, méghozzá egész jó eredménnyel, úh. alig maradt olyan ajánló, ami alatt nincs ott a teljes lemez!!)