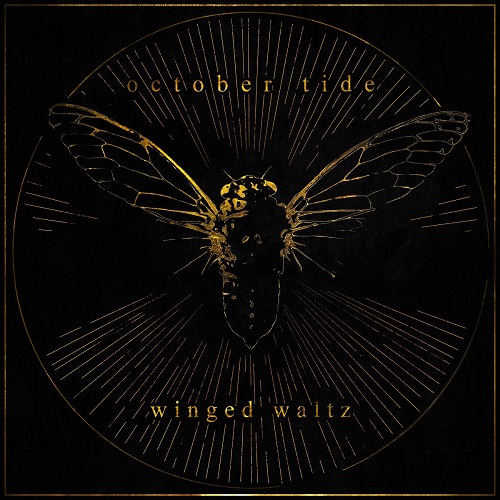 Az October Tide ugye egy death-doom csapat, ahol azok a Norrman tesók játszanak, akik néhány éve igen kurtán-furcsán távoztak a Katatoniából. Illetve van még itt egy új dobos, meg az előző lemeznél csatlakozott hörgőember és másik gitáros. Jó. Viszont a zenéjük nem feltétlenül szokta hozni azt a szintet, amitől jó szájízzel dőlnék hátra. Mivel röviden írok, a régi időket nem bolygatnám, csak az újjáalakulást követő időszakot tekintve pedig volt egy első blikkre egész pofásnak tűnő, ám mégsem túl különleges (vagy csak nem kapott elég időt nálam) A Thin Shelljük, meg egy egyik fülemen be, másikon ki Tunnel of No Lightjuk. És most itt a Winged Waltz... 
És azt kell mondjam, nem kis elismeréssel a hangomban, hogy bizony alaposan felrázták a rendszert, az előző lemez buta gitártémáit el lehet felejteni, és a Thin Shell még erőteljesen katatóniás világához sem tértek vissza. Hanem komoly munkát fektetve - legalábbis úgy hallani - a gitártémák stíluson belüli megújításába, egy meglepően igényes, mindenféle stílusbeli klisétől mentes, a műfaj krémjébe sorolható anyagot kovácsoltak össze a srácok, tényleg egy általam ismert zenekarhoz sem tudnám hasonlítani ezt a zenét (jó, persze bizonyos felbontás fölött). 
Azt azért nem gondolom, hogy az utóbbi évek legnagyszerűbb alkotásait (Monolithe - III, Doomed - Wrath Monolith) megszorongatná, de szerintem simán kenterbe ver olyan nagy neveket, mint a Mourning Beloveth, a Novembers Doom, a Swallow the Sun, vagy pláne a Saturnus. Ezzel persze lehet vitatkozni (anyázni is ;)), de a műfajban jártasaknak reményeim szerint üzen valamit (igen, azt, hogy el ne kerüljék a WW-t)...
Amúgy a hangzáskép is "gyönyörű", vaskos, a hörgés is öblös, és még refrénekkel sem untatnak minket hálistennek. Nem volnék meglepve, ha a death-doom korona az ő fejükre szállna az idén, bár csak most kezdődött a salakszezon, érhetnek még meglepetések...