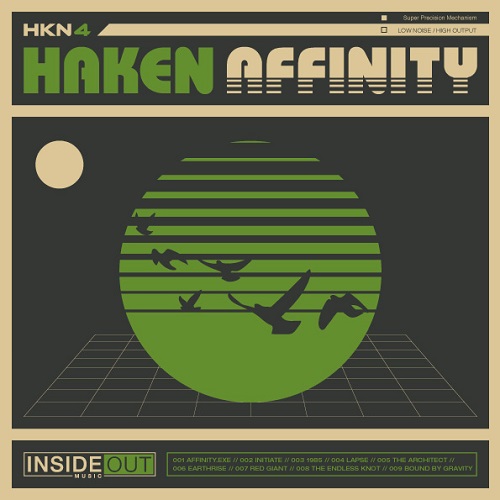 Nálam a legutóbbi, '13-as The Mountainnel jött be a Haken a képbe, méghozzá olyannyira, hogy az év egyik legtöbbet hallgatott, sőt, kedvenc (oké, csak a Fates Warning után), progalbumává vált az az egész egyedi ízeket hordozó, sokszor játékos, rajzfilmes hangulatú, vagy éppen musicales, ám komoly technikai felkészültségről is tanúságot tevő korong. Aztán muszáj is volt belehallgatnom a korábbi munkáikba, és ugyan rosszak azok sem voltak, számomra pont az a különlegességet adó fűszer hiányzott belőlük, ami a The Mountainben elkapott.
Majd '14-ben kijöttek egy Restoration című EP-vel, és hasonló volt a helyzet, eléggé elment mellettem. Most újrahallgatva viszont egyáltalán nem tűnik rossznak. Azért írtam a korábbi dolgokról ennyit (ami a mostani rövid ajánlóimat tekintve bizony sok), mert az új lemeznél sem érzem azt, amit "szerettem volna" a Mountain alapján. Mert bizony ez sem egy vidám, könnyed, meseszerű anyag. DE eszem ágában sincs leírni őket, mert egyrészt alapos elmélyedésre nyilván nem volt még időm (igen, ez egy ajánló, nem elemzés), másrészt a lemezbe fektetett komoly munkát hiába is próbálnám elvitatni. Továbbá simán benne van a pakliban, hogy nem vissza, hanem jócskán előreléptek, viszont tényleg nem én leszek az, aki centinként ide-oda méricskéli, hogy mit és hogyan csinált a Haken mondjuk '10-'11-ben, illetve most. 
Ami elsőre feltűnt, hogy a beharangozó Initiate mennyire Leprous-os lett, ez persze egyáltalán nem gáz, pláne, hogy jó kis dal, és a lemez többi részére egyáltalán nem igaz. Csak érdekes, mert a múltkori albumnál pont együtt volt emlegetve a két csapat (nem is alaptalanul), mint akik új irányt mutatnak a progmetalnak, és Einar Solberg (a Leprous frontembere) vendégeskedik is a lemezen, és ugyan az Initiate-beli közreműködését sem tudom kizárni, a negyedórás központi tételbeli (The Architect) amolyan ihsahnos süvölvénykedését nem lehet eltéveszteni.
Ha valaki a fejemhez vágná (bár tenné), hogy nem a lényegre koncentráltam ebben a néhány mondatban, elismerem, igaza van. Tehát röviden a lényeg: mindenképpen jó lemez, változatos is (stílusok, ritmusok, miegymás), az énekesnek különösen jó a hangja, és zeneileg is nagyon minőségi progresszív metal (vagy épp nem metal) zene az Affinity, egy progger se tévessze szem elől! Viszont a The Mountain kihagyását egyelőre nagyobb véteknek érzem, úgyhogy akire vonatkozik a feddés, az mihamarabb pótolja!