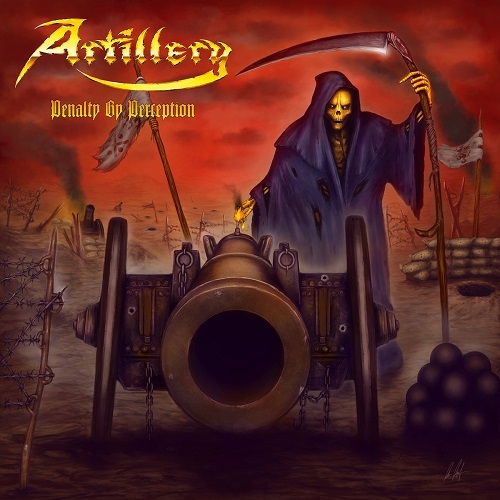 A dán thrashmetallegenda Artillery ugyan kétszer is hosszabb időre feloszlott, ám a második újjáalakulása óta fegyelmezettebben dolgoznak mint valaha, így 2009-es visszatérő When Death Comes óta tartó korszakban már a negyedik lemezük készült el, és ezzel beérték az azt megelőző két és fél évtized albumainak számát. Azt a szokásukat mondjuk megtartották, hogy sűrűbben cserélnek énekest, mint alsóneműt, így 2-2 arányban osztoznak a közelmúlt anyagain az aktuális Michael Bastholm Dahl, és közvetlen elődje (Søren Nico Adamsen).
Bevallom, nekem a stílus vokalistáival általában bajom szokott lenni, mert vagy agresszíven nyomják, és akkor egy számomra idegesítő acsargás lesz a dologból, vagy ha énekelnek, akkor nagyon hevimetálosra veszik, ezzel jócskán elvéve a zene keménységéből, ráadásul nem is szokott valami nagy hangjuk lenni. A kivételek nálam nagyjából kimerülnek James Hetfieldben (jó, meg még John Bush, és biztos lehetne mazsolázni további 1-2-t). Mindezt azért fejtegettem ilyen hosszan, mert ennek a Michael gyereknek iszonyat nagy torka van (nem kérdés, hogy felülmúlja az egyébként nem rossz elődjét)! Metalos stílusban énekel ugyan, de nemigen mászik fel magasra, és elemi erejű hangorkán jön ki belőle (rekedtesen, és tisztán is megy neki), szerintem nincs az a power metal csapat, amelyik ne irigyelné el őt innen!
Hozzá teszem, az előző lemezhez képest (amin ugye már szintén ő volt) mintha poweresebb is lenne a muzsika, de lehet, hogy téves benyomás, és csak az elképesztően bődületes hangzás miatt érzem így (ők is azt mondják, hogy az eddigi csúcsteljesítményük). Mindenesetre biztos, hogy vannak thrash témák dögivel, viszont az énekessel egyszerre szervált dobos sem csak a műfajsztenderd szögeléseket hozza, szóval összességében nagyon jót tett a zenekarnak a fiatalítás. De nem éri szó a ház elejét: az "ősgitáros Stützer testvérpár" nagyon is modern stílusban nyomja, és hát nemcsak kiválóak a témáik, hanem irgalmatlan mennyiségben áramlik az energia a hangfalakból!
Amúgy a Mercy of Ignorance-ben érzek egy csipetnyi Megadeth feelinget, továbbá a sok zúzós dal közepette helyet kapott egy powerlíra is When the Magic Is Gone címmel, amiben sokat dicsért vokalistánk újfent remekel, több ilyesmit is szívesen meghallgatnék tőle, esetleg egy másik projectben.
Nem vagyok egy thrasher, de ami jó, az jó, nálam simán elviszi a pálmát az új Megadeth és Anthrax lemezek elől!