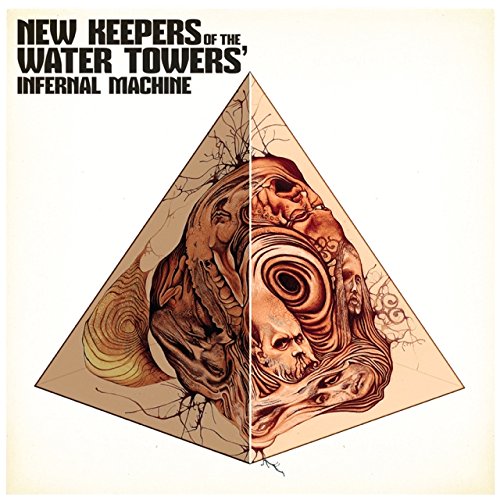 Nahát, egy olyan lemez, amivel kapcsolatban igen magas elvárásaim voltak, és lényegében egy az egyben meg is felel a kívánalmaimnak! Persze szó sincs közönségkiszolgálásról, hiszen a múltkori, 2013-as, több mint igen jól sikerült The Cosmic Child után pont azt szerettem volna, hogy maradjanak meg ilyen elvarázsolt, slágermentes zenekarnak, és egy olyan kozmikus utazásra invitáljon a zenéjük, amitől - mindegy, hogy milyen eszközökkel érik el - összecsinálom magam.
Első blikkre a New Keepers of the Water Towers zenéjében ott egy jó adag 70-es évek retrója, de olyannyira odakint tevékenykednek a világűrben, ami abban az időben, hard rockban legalábbis, még nem volt szokás. Ha valakiben felsejlik, hogy akár az Opeth is csinálhatna ilyesmit manapság, ha kísérletezősebb volna, azzal egyet tudok érteni. Aztán a kozmikus magányunk átélése folytán a Voivod (ők is nagyon odatették magukat mostanában, mihamarabb sorra kéne kerítenem őket) szintén beugorhat, igaz, tényleg csak a hangulat, és nem a konkrét megvalósítás kapcsán. Hiszen ez itt nem is metal, pláne nem komplex vagy gyors.
Talán leginkább progresszív stonernek lehetne nevezni, csak a földiek helyett itt holdsivatagokon át barangolunk szkafanderben. Mindenesetre már a tíz perc fölötti nyitódal nem hagy kétséget afelől, hogy mennyire különleges zene ez, és a fenti videó képi világa is méltó a hallgatni valóhoz, úgyhogy tessék megszemlélni!
Ugyan a meglehetősen komor, elhagyatott űrszondaként, üzemanyag nélkül hányódó érzésvilág megmarad a későbbiekben is, de minden dal a saját jogán egy gyöngyszem, legyen szó akár instrumentális space-, krautrock kalandozásról (Tracks over Carcosa), vagy törzsi ritmusú cyberethnopszichedelikus dalról (Tachyon Deep). Az Escape Aleph Minort szerintem még Steven Wilson is irigyelni fogja, hogy nem neki jutott eszébe!
Ha azt mondanám, hogy az egész lemez egy sci-fi-varázslás egyenesen a hetedik dimenzióból, akkor sem lódítanék nagyot. Nem tudom, hogy ezek a svéd srácok sokra viszik-e az idén, de igencsak megérdemelnék. Mindenesetre a Roadburnön idén ismét fel fognak lépni 2014 után. Csodálatraméltó, művészi mestermunka, az év eddigi egyik legnagyszerűbb albuma!