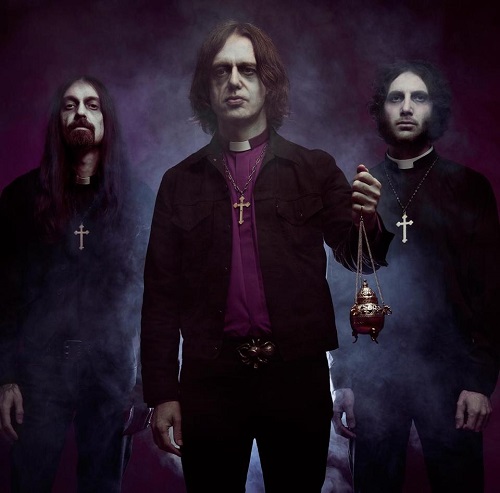 Lee Dorrian, a jégre tett Cathedral boszorkányvadász frontembere sem bírta sokáig a fenekén, és egy új, fenomenális szörnyedvény élén tért vissza a színre!
(Amúgy régi harcostársa, Gaz Jennings mégannyira sem tétlen, ld. Death Penalty ÉS Lucifer.) Az új társai pedig a szintén sokat (de azért egy jó tizessel kevesebbet) megélt személyek, akik zenéltek együtt az Electric Wizardban, majd a Ramessesben. Név szerint Mark Greening dobos (ő még mindig nyomul a Ramesses-szel) és Tim Bagshaw gitáros, aki a basszust is feljátszotta a lemezre (ő most a Serpentine Pathban van még, ami nagyjából a vele kiegészült Unearthly Trance, de elvileg most az is elindult újra, szóval nem könnyű itt eligazodni). A srácok zenei világa tehát nagyon közel esik a főnök eddigi csapásirányához (mint az közismert, Mr. Tájfel), azonban a With the Dead produktuma jóval súlyosabb, mint amire számítottam. Sehol nincs a Cathedral mindenfelé kísérletezős, hol víg, hol bolond dallamoskodása, csak és kizárólag horzsolások, és zúzódások. Akármilyen vastag kérget is növesztettél a szíved köré, ha ezt végighallgatod, le lesz róla reszelve. Legfeljebb – ha idő közben a belseje is megkeményedett – azt veszed észre, hogy nem maradt belőle semmi!
Szóval doom zene létére irgalmatlan pusztító lett ez a valami, egy pillanatnyi levegővételt nem engedélyez, és a sludge szóval sem hülyeség dobálózni. Dorian csak a sajátos kiabálós kántálását hallatja, ami által fokozza a zene keménységét és nyersességét. Itt jegyzem meg, hogy ugye ő közismerten (megintcsak) hamis szokott lenni, és kivételes öröm számomra, hogy itt nincs ilyen probléma vele (egyszerűen azért, mert nincs rá lehetőség). Azt hiszem, nem túlzok, ha azt mondom, a szerzemények totál egyívásúak, végig ugyanaz a hangulat uralkodik, és igazából menet közben azt sem lehet tudni, hogy hol tartunk éppen a lemezen. Ám ez itt kivételesen nem negatívum, mert minden pillanata jólesik, és igazából csak megzavarná a patológiás harmónia- és komfortérzetünket, amennyiben a masszából kilógó témák bukkannának fel. Továbbá a konstans miliő egy pillanatig sem jelenti, hogy nem értő kézzel játszott doom riffek sorakoznak egymás után, pusztító-pörgető dobolással fűszerezve, és azt sem, hogy ne lenne tele a zene témák tömkelegével. Mert igenis folyamatos a változás, áramlás, semmit sem játszanak a kelleténél tovább, csak struktúrát nem igen lehet fölfedezni a hallottakban. És szerintem ez is csak előnyére válik az összképnek. A tavalyi év egyik legkellemesebb meglepetése!
Amúgy utána lehet keresni egy japán bónuszdalnak is (én nem tudom mellékelni), és az pont kilóg a sorból, lévén egy – valamivel – lágyabb instrumentális jammelés, de szintén iszonyat feelinges!