Ezúttal a március 7-én, a liverpooli katedrálisban rögzített akusztikus előadásukat idézhetjük majd meg otthonainkban, melynek a találó A Sort of Homecoming címet adták.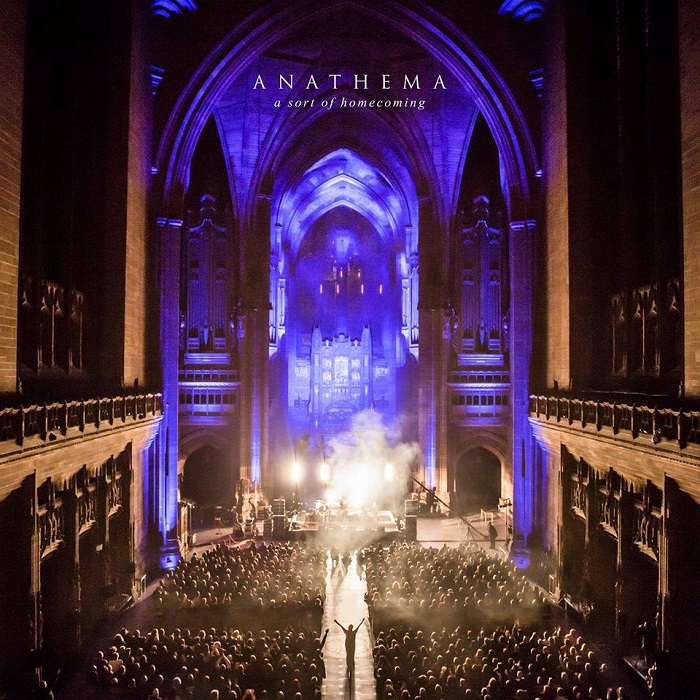 A márciusi négy állomásos brit "katedrális-turné" záróakkordja volt a szülővárosukban adott koncert, azonban nem hagyják annyiban, és október november során egy Acoustic Anathema fedőnevű koncertsorozatot bonyolítanak le, kezdve Új-Zélandon és Ausztráliában, majd Nyugat-Európában folytatva. Hozzánk tehát - egyelőre - nem érnek el ilyen konstellációban (bezzeg a végállomás Bulgáriában), de ami késik, nem múlik (meg azért a zenekar egyes különítményei szép számmal bombázzák a magyar közönséget egy(két)szálgitáros produkciókkal egy bő évtizede)!
Az elhangzott dalok nagyjából megfelelnek annak, amit manapság "sima koncerten" hallhatunk a csapattól, azaz főként az új évtized lemezeiről szemezgettek, kiegészítve a "kihagyhatatlan örök klasszikusaik" elenyésző töredékével:
01. The Lost Song Part 2
02. Untouchable Part 1
03. Untouchable Part 2
04. Thin Air
05. Dreaming Light
06. Anathema
07. Ariel
08. Electricity
09. Temporary Peace
10. The Beginning And The End
11. Distant Satellites
12. Take Shelter
13. Internal Landscapes
14. A Natural Disaster
15. Fragile Dreams
Legalább ennyire érdekes lett volna, ha a teljes eddigi pályafutásukat felölelő (és java részét alighanem örökre búcsúztató), a régi tagokat is felvonultató, áprilisi, Budapesten startolt turnéjukat örökítik meg, de egyrészt ne legyünk telhetetlenek, másrészt mivel a Roadburn fesztiválon is felléptek a programmal, azért legalább egy jó minőségű hangfelvételre számítok a későbbiekben.
Visszatérve a jelen produkcióra, a már korábban bejáratott "anathemakusztius trió", azaz a csapatban vokális téren érintett Lee-Vincent-Danny hármas egészült ki a John-Jamie ritmusszekcióval (a vezetéknevek sorrendben: Douglas-Cavanagh-Cavanagh-Douglas-Cavanagh :D), a Hindsight óta talonban tartott Dave Wesling csellistával, és az "előzenekari" státuszt is megkapó Anna Phoebe hegedűssel.
A koncertfilm természetesen a Kscope istálló "házi rendezőjének", Lasse Hoile-nek a nevéhez fűződik, aki garancia a minőségre, a hanganyag producere és keverője pedig a "szokásos" Christer-André Cederberg volt. Az 5.1-es mixet pedig naná, hogy Steven Wilson a The Pineapple Thief vezér, tiszteletbeli Katatonia tag Bruce Soord követte el (aki jelenleg épp első szólóalbumát készül megjelentetni).
A kiadvány előrendelhető a Kscope kiadó webáruházában (azaz itt), méghozzá 2 CD - DVD-s, Blue-Ray-es, 2 CD - DVD - Blue-Ray-es és 3 LP-s variációkban.