Amikor azt mondom, hogy a Katatonia az utóbbi évtizedben vergődik, nem olyan egyértelmű a helyzet, mint sejteni lehetne egy huszonéves zenekarnál. Azaz nem a régi lemezeik haloványka másolatait adják ki újra meg újra, és még azzal sem vádolhatók, hogy elmentek egy könnyebben emészthető, de jóval felszínesebb irányba. Próbálkoznak, haladnak előre, csak valahogy mintha a régi szikra (netalán tűz) hiányozna. A 2006-os Great Cold Distance mondjuk komoly egyszerűsítésekkel élt a(z addig sem bonyolult) dalszerkezeteket tekintve. Ám a sajátos, agyonkompresszált, búvárharang hangzásával, és az elektronika jelentős mértékű bevetésével még markáns arca volt az életműben. Az is sokatmondó, hogy azóta mindösszesen két nagylemez született, bár ez önmagában nem volna gond. Viszont az ott megismert verzék (és refrének is) mintha panelként rendre át lennének emelve az újabb keletű dalokba, és sokszor meg sem tudom őket különböztetni. Így amikor egy mostanában készült számukat hallom, sokszor az a benyomásom, hogy már 1000 éve ismerem. Jó, az igaz, hogy albumról albumra terebélyesítették a hangszerparkjukat, összetettebbek lettek a dalszerkezeteik, de mivel hiányoznak a roppant erőteljes dallamok, a témák elsuhannak az ember füle mellett, és kb. tíz perc kell, hogy elunjuk.
Na ez az egyik megközelítésem...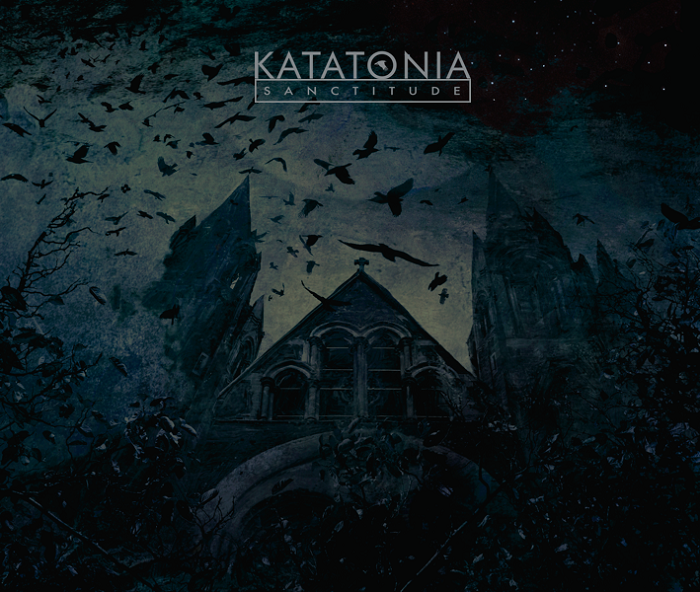 A másik, ami a legutóbbi Dead End Kings-nél szúrt szemet (fület ugye), hogy ha jobban odafigyelek, az ismerősségük ellenére a számok javának ha nem is fergeteges, de ígéretes a melódiája, aminek az élét mindig sikerül elvenni a körítéssel. A gitártémák pl. nem egyszer bődületesen banálisak, és a főtéma ellen dolgoznak, de ha épp az is rendben van, valami más akkor sincs. A keverésre gyanakszom, ill. az volt a benyomásom, hogy némi áthangszerelés talán segítene egyik-másik dalon.
Aztán ugye ez is bekövetkezett, a Dethroned & Uncrowned képében, ugyanis az egész lemez az 1az1beni akusztikus újrajátszása volt a Dead Endnek (a számsorrendet is megtartva). Na most a végeredménnyel részleteiben nincs bajom, bármelyik szerzeményt gond nélkül meg lehet hallgatni, de összességében csak azt érték el, hogy totál leszűkült a lehetőségeik spektruma, és egy (még sokkal) homogénebb anyaggá transzformálódott a cucc.
Ennyit az előzményekről (és negatívumokról), ugyanis ez a londoni koncertfelvétel a Dethroned utáni akusztikus turnén készült, azonban - hálistennek - nem csak a legutóbbi lemezről csendülnek fel a dalok.
Kezdem az extra jóhírrel: az imént azt mondtam, hálistennek, de az újabb keletű nóták valójában kitűnően illeszkednek a programba. Egyrészt, miután csak a koncert kb. harmadát teszik ki (és nem blokkosítva), így jobban elkülönülnek egymástól, és ezáltal könnyebb ráhangolódni a világukra. Másrészt, miután szerfelett szépen szól a produkció, átjön az élő hangulat, és egy sokkal lélegzőbb, szabadabb, neadjisten érzelemgazdagabb verzióját kapjuk a daloknak (akármelyik eredeti verzióval szemben). Pláne áll ez Renkse hangjára, aki így több lelki töltést áramoltat a spirituális kondenzátorainkba. Harmadrészt, a hangszerelés "mégakusztikusabb", azaz többet, illetve erőteljesebben hallhatók a gitárok, és ez is csempész némi természetességet az összképbe.
Szóval az elején, az Ambitions-nél még ámultam, hogy jé, ennyire tetszhet egy eddig közepesre taksált Kata-dal, de később a The Racing Heartnál már nyugtáztam, hogy bizony ez nem csak egyszeri véletlen volt. Az Undo You meg eleve koncertre termett azzal a funerals to come-os refrénjével*. Egyedül a The One You Are Looking For Is Not Here-nél - amely most itt záródalként szerepel, Silje Wergeland vendégszereplésével - az a benyomásom, hogy itt sem működik. Úgy érzem, annak a dalnak az alapanyaga is gyengus, kár, hogy ennyire erőltetik. Pláne szegény Siljét is ezzel vegzálják folyton, ahelyett, hogy egy csomó dalba felkérték volna vokálozni. Biztos sokat hozzá tudott volna tenni, de ez persze elmaradt.
Akkor már itt megjegyzem, hogy Anders Nyström gitáros-dalszerző viszont elég sokat vokálozik, méghozzá hibátlanul. Ugye neki eleve hasonló hangszíne van Jonas-éhoz (egy picit magasabb), ketten együtt nagyon működőképesek (nem voltam biztos benne, hogy nem csúsznak-e majd be hamiskás hangok, de mindenki kristálytiszta, ami örömteli). Amúgy végig akusztikus gitárok vannak, billentyűk, ill. perka. Tudjuk, hogy nem áll virtuózokból a csapat, de végig hangulatos, amit csinálnak; mint már mondtam, tisztán hallatszanak a szólamok, nem kifogásolnék semmit.
Utolsó gondolat a Dead End Kings-es zöngeményekkel kapcsolatban: már eleve érthetetlen volt, hogy a lemez (egyik) csúcspontjaként értékelhető The Act of Darkening miért csak bónusz volt, aztán, hogy miért (nyilván ezért) hagyták le az átdolgozós cuccról. De minthogy eleve ide kívánkozó hangszerelésben fogant, és ordít, hogy egy ilyen koncerten játsszák el, elképesztő, hogy innen is kimaradt. Ha pályabíró volnék, ezért kapnának egy valag büntetőpontot!
Rátérve a korábbi dalok átdolgozásaira, vannak élményszámba menők! Némelyik ugyan picit másképp szólal meg, mint eredetiben (ami nem gond), és engem ezzel pont sikerül kibillenteni a lelki egyensúlyomból (ez már az), de talán szőrszálhasogatás a részemről. A nyitó In the White egyből telitalálat, mindig is titkos kedvencem volt a Great Cold Distance-ről azzal a lemondóan szomorúságos, mégis táncba hívó, sanzonos refrénjével. Aztán van Teargas és Tonight's Music a Last Fair Deal Gone Downról (ez a minimum). Előbbinél nekem hiányzik a refrénből a gitárok intenzitása, de legalábbis a dobok pergése, utóbbinál meg a mélyebben énekelt refrén vesz el a szenvedélyből. (Szóval ilyesmikre gondoltam az imént, mint zavaró tényezőkre, a továbbiakban nem is terhelek senkit hasonlókkal.)
A Discouraged Ones tekintetében jobban megerőltethették volna magukat, mert az egyedüli Gone elég karcsú. Igaz, a Tonight's Decisionről is csak az A Darkness Comingot játszák, az viszont annyira jó, hogy kárpótol az esetleges hiányérzetért. Az extrakuriózum meg a Day a Brave Murder Day-ről, mert 96 óta sajnálkozom, hogy nem írtak hasonló vénában még néhány szerzeményt. Érdekes, hogy a Viva Emptiness-t nyomták még meg kissé jobban, bár az előszedett négy dalból kettőt csak erre a koncertre próbáltak össze, ezek jelesül az Omerta és az Evidence a végén, és dobnak egyet a hátsó fertályon (már a lemezén ;-)).
A leírtak alapján gondolom senkit nem lep meg, hogy melegen ajálnom a lemezt a(z éneklős) Katatoniát kedvelőknek, akik meg még nem találkoztak velük, azoknak egy kiváló lehetőség az ismerkedésre, hiszen amellett, hogy komolyabb betekintés nyújt az utóbbi két évtizedes tevékenységükbe, még könnyű is megbarátkozni vele! Ha valaki meg eleve ódzkodna a torzított gitároktól (remélem fogynak az ilyen emberek), az egyértelmű, hogy most csapjon le rájuk!**
*mégha kicsit fura/visszás, hogy beépítették ezt a szófordulatot egy 2012-es dalukba (t.i. volt egy For Funerals to Come című EP-jük '94-ben)
**persze aki a depresszív, introvertált, szomorkodós muzsikáktól irtózna, az MOST SE kezdjen velük, ez csak természetes :-)
Aki szemfüles, és észreveszi ezt, vagy annyira kitartó, hogy idáig olvasott, az meg is tudja nézni a koncert felvételét nagyjából tűrhető minőségben ITT!