Anneke az utóbbi években csak szólólemezein, illetve Devin Townsend anyagain volt hallható. Ezzel önmagában semmi gond sincs, de mindkét produkcióban kizárólag könnyed, slágeres dallamokat produkált pop-rock (na jó, pop-metal) zenei alapokra. Igaz, nagyon úgy tűnik, hogy élvezi amit csinál, és a hangzóanyagokon is átsüt a lelkesedés, így kezdeti fenntartásaim ellenére sikerült megbarátkoznom ezen anyagokkal. Azt nem mondanám, hogy agyonhallgattam őket, de olykor jólesnek, mindenféle ellenérzés nélkül.
Azonban Giersbergen asszonynak olyan adottságai vannak, amiket bűn hagyni évekig parlagon heverni. Konkrétan mélyebb érzelmi tartalmat igénylő muzsikára célzok, ahol lehetősége van komolyabban kamatoztatni isteni adottságát (gy.k. a hangját). Nos, úgy látszik, hogy maga, mint dalszerző nem alkalmas ilyen szerzemények megalkotására (ezt nem rosszallólag mondom, bár nem is jóallólag), Devinnek meg esze ágában sincs figyelembe venni effajta szempontokat, csak gyártja a saját hülyeségeit (amivel szintén nincs baj). Mindenesetre úgy hiányzott egy ilyen típusú project Annekének, mint egy falat kenyér az éhezőnek!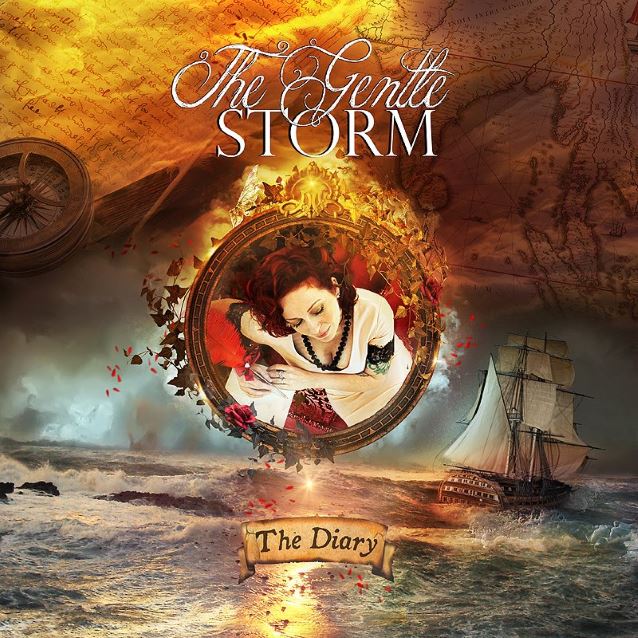 Nézzük a másik főkolompost! Lucassen úr legyártott az utóbbi két évtizedben jó néhány metal musicalt Ayreon fedőnév alatt, illetve volt még szép számmal ilyen olyan projectje, de bevallom, azokhoz nem volt szerencsém. Az Ayreonhoz is csak annak köszönhetően, hogy nem átallott rendszeresen olyan énekeseket szerepeltetni a lemezein, akiket egyenesen imádok (vagy imádtam), és csak miattuk muszáj volt megismerkednem a produkciókkal. Mert amúgy sosem voltam híve az ilyesminek, márhogy azzal nincs bajom, hogy van egy komoly, sokszereplős sztori, és azt előadják. Hanem rögtön az elején az volt a benyomásom (és azóta sem cáfolódott), hogy zeneileg az egész nem valami nagy durranás. Nem teljesen ügyetlenül hangszerelt, nem irgalmatlanul katasztrofális heavy metal dalok sorjáznak egymás után, a szokásos sablondallamokkal, esetleg musicalekből ellesett fogásokkal kiegészítve. Ha maga a cselekmény izgalmas is, abból a zenén semmi nem jön át, lévén érzelmileg neutrális, pusztán a "nagy könyv"nek megfelelni akaró, és egyébként zeneileg összefüggéstelen dalok töltik ki az albumok nagy részét. A maradék meg színpadias izé-mizé huza-vona.
Az előző bekezdés igen rosszhiszeműnek hangozhat részemről, úgyhogy megjegyzem, a legutóbbi Ayreon mintha kissé kilógott volna a sorból, és más megközelítéssel készült, ám az sem késztetett komolyabb ismerkedésre. Bár az igazat megvallva, egy halvány - és nem túlságosan sürgető - inger van még bennem, hogy a későbbiekben még esélyt kapjanak az egyes anyagok, hátha revideálom a nézeteimet. De most nagyjából ez a felállás.
Régóta reklámozzák a The Diary-t igen nagy elánnal, és bár Arjenben alapvetően nem bíztam, mégis reménykedtem, hátha sikerül olyasmit összehoznia, ami inspiratív lesz Anneke számára. Mert akkor már csak oda kell rakni a csajszit a mikrofon mögé, és amit majd ő csinál, az felhúzza az egészet. Most előre lelövöm a poént, nem ez történt. Sajnos.
Katasztrófa nincs azért, sőt, zeneileg vannak egész használható megoldások, a hangszerelésből süt a jó értelemben vett profizmus, bár kicsit több szólamot sokszor el tudnék viselni. Ami a gondom, hogy a számok sem nem rendelődnek alá valami komolyabb koncepciónak, dinamikát adva ezzel az albumnak, sem nem tökéletesre csiszolt, önmagukban teljes dalok. Hanem középutas, kellemes dallamokat felvonultató, ám nagyobb hullámokat nem kavaró nóták. Rögtön az elején még egész reményt keltő, a nyitó Endless Seanél még úgy éreztem, hogy megeshet, hogy Anneke számtalanszor könnyeket csal a szemembe, vagy libabőrt a hátamra a későbbiek során, de utólag visszatekintve az az egyetlen dal, amelyik jelentősebb benyomást tett rám. Van bennem némi bizodalom, hogy néhány további hallgatással kikristályosodik még ez-az, és talán a dalok jó fele is kedves ismerősömmé szegődik. De az átütő erő biztosan nincs meg, erre itt megeszem a kalapom.
Azért el kell ismerni, most sokkal többet kapunk Anneke gyönyörűséges orgánumából, mint az utóbbi 10 évben bármikor, de ha visszagondolok pl. az if_then_else-re, ami pedig a legkompaktabb, slágeres anyaga volt a The Gatheringnek, ég és föld a különbség. Ne értse senki félre, nem kéne, hogy olyan legyen, csak hogy olyasmi színvonalú. Hát, nincs mit tenni, ez az én elvárásom marad, ők meg vagy népszerű(bb)ek lesznek ezzel az anyaggal, vagy nem. Ha nem, akkor sem látom, hogy ki bukkanna fel Anneke mellett, aki hozzá méltó dalokat tudna a lábai elé rakni, úgyhogy magam is szurkolok a sikernek. Két okból: ez esetben várható folytatás (és az ugye hátha jobb lesz), továbbá ott vannak ez a szerencsétlen Nightwish-ék (ez itt most egy jóhiszemű jelző), és úgyis mindenki oda lesz a kegyetlenül pocsék új lemezükért (vívódom, hogy írjak-e róla sebtiben, ha nem, sehogy sem fogok, annyira érdektelen), annál pedig ez sokkal-sokkal jobb.
Ez zárszónak is jó lett volna, de nem szóltam még arról, hogy dupla az anyag, és az első része Gentle, a második Storm. Azaz akusztikus, ill. metalos (verzióban szerepelnek ugyanazok a dalok). Arjen áradozott magáról, hogy micsoda ötlete volt ez neki, és muszáj volt mindenképpen megvalósítania. Nem eleve halálraítélt koncepció ugyan, de azért hasra nem esnék az ötlet fantasztikusságától. Pláne a kivitelezést hallva. A Storm nekem nagyon haloványnak tűnik. A Mandyliont lebegtették vele kapcsolatban, ezt azonnal el kell felejteni. Ultralight metal, tényleg totál súlytalan, vannak persze szimfonikus részek, de azok sem sok vizet zavarnak. Tehát én jelenleg a gentle verzióra szavazok, (bár ott meg mintha üres lenne időnként a zene, elfért volna még egy-két karakteresebb szólam), azaz felemás az ötlet kivitelezése. Azt mondom a végére, hogy soha rosszabbat, és ezt most kénytelen vagyok szó szerint érteni. Aki szereti Anneke hangját, és jólismert dallamait (márpedig ki ne szeretné), azért ki ne hagyja, mert mindig élmény!
Ha azt gondolnád, hogy ennél részletesebb is lehetne egy lemezismertető, kérlek kattints ide!