15-ik nagylemezéhez érkezett a grindcore stílus megalapítója. Igen nagy szám ez, és alighanem annak köszönhető, hogy sosem mentek pihenőre, a leghosszabb szünet két albumuk között 3 év (igaz, hogy ez az utóbbi időben rendszeressé vált). Bár a legelső, klasszikus Scumon (1987) még senki sem játszott a mai csapatból - ellenben a Carcass-os Bill Steer, a Cathedral főnök Lee Dorian és a Godflesh guru Justin K. Broadrick igen - , az 1990-es Harmony Corruption óta változatlan a felállás (eltekintve attól, hogy szegény Jesse Pintado gitáros 2004-es távozása óta - aki 2006-ban az élők sorából is eltávozott - csak egy gitárosa van a zenekarnak). Így óhatatlan a kérdés, vajon tudhatnak-e még bármi újat mondani (szigorúan zenei értelemben) számunkra ennyi év után. Tény, hogy valamikor a 2000-es évek első felében (cirka az Order of the Leech-nél) jóval erősebb fokozatba kapcsoltak az előtte levő néhány lemezhez képest. Akkor tényleg sikerült megújulniuk, és irgalmatlan brutalitással sújtottak le a Diatribes óta "elgyanútlanodott" hallgatóra. Azóta sorban gyártják a hasonló szellemben készült anyagokat, azaz kegyelmet nem ismerő, minőségi death metalt (zeneileg szerintem helytállóbb a mai zenéjükre, mint a grindcore) kapunk tőlük. Ám igaz, ami igaz, nem sok újdonsággal kápráztatnak el minket.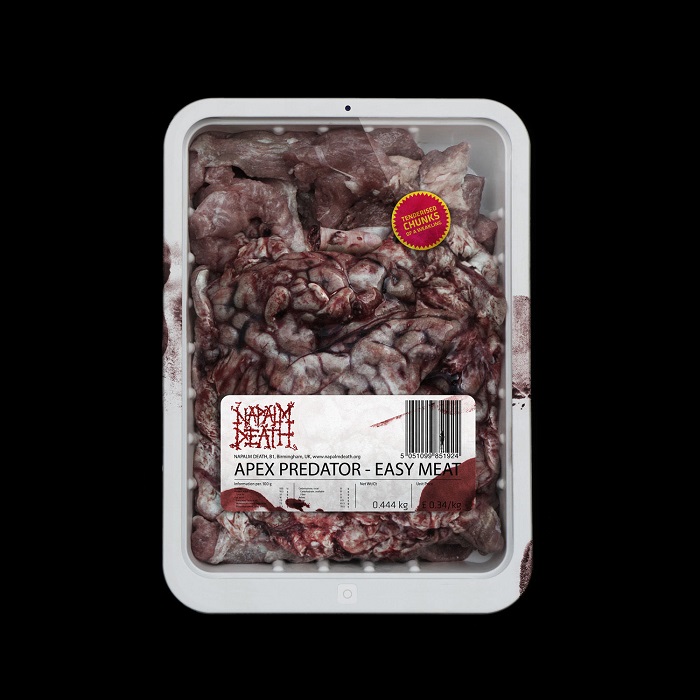 Nos, így van ez a csúcsragadozó-könnyű préda ellentétpárt címmé avanzsáló új lemez esetében is. Igaz, a nyitó-címadó dal inkább egy furcsa kántálós intro, amilyet még nem hallhattunk tőlük (picit beugrott róla a Morbid Angel legutóbbi Illud albumának eleje), meg a hetediknek érkező Dear Slum Landlord... lóg még ki a sorból. Abban valami énekféle is akad, ami Barney-tól emlékeim szerint példátlan, ám valljuk be, azért nem nagy újítás az ilyesmi.
Tehát nem forgatják fel a műfajt, sőt, magukhoz képest sem változtak sokat, így aki már korábban kezdett ráunni a csapatra, nem most fogja újrafelfedezni őket. Ám ezen túlmenően semmi rosszat nem tudok mondani, mert majd' minden számba pakoltak legalább egy irgalmatlan erejű groove-ot, aminek hatására az ember kifejeli az acélfalat, az ezeket váltó pusztító - és sokszor egész bonyolult - darálásaik pedig ismerősségük ellenére szintén élményszámba mennek. További jópont, hogy az átlagosnál is rövidebb dalhosszakkal operálnak (alig csúszik egy-egy szösszenetük 3 perc fölé). Ez azért jócskán megkönnyíti a befogadást, lévén emlékezetes refréneket nagyítóval sem találni (az ilyesmire vágyóknak a 90-es évek második felében készült lemezeiket érdemes böngészgetni), amit egyébként nem tartok hibának.
Ha jobban beleássa magát az ember, Mitch Harris gitártémáinak nagyrészét hamar megjegyzi ám, mert vagy fogósak, vagy technikásak, és szerencsére mindvégig könnyedén kivehetők. Shane Embury basszusjátéka nem különül el igazán, de kellően vastagítja a hangzást, továbbá Danny Herrera szaggatós riffek alá érkező ritmusai, illetve gyakran alkalmazott, elég tisztességes pörgetései kifejezetten emelik az album színvonalát. Barney bömbölése pedig Barney bömbölése. Alighanem nélkülözhetetlen kelléke egy Napalm Death lemeznek.
Akit érdekel, a szintén énekfoszlányokat tarrtalmazó Hierarchies-ban egy rövid gitárszóló is hallható (egy John Bilbo Cooke nevű egyén jóvoltából), bár ez is inkább csak náluk számít különlegesnek.
Zárszóul nem tudok mást mondani, mint hogy jó kis lemez ez, a maga 40 percével, 14 számával, dalonként többszöri ritmusváltásával, kíméletlen intenzitásával. Minden súlyos metalt befogadni képes személynek érdemes meghallgatnia!
Ui.: Létezik 17 dalos verzió, ám nekem nem volt (még) hozzá szerencsém...
Uiui.: Már volt, de újabb gondolatokra nem sarkallt.