A Roadburn fesztivál a doom (és egyéb kapcsolódó metal zenék) örömünnepe. Szép lassan terebélyesedik ugyan, és így már sok fellépőt nem ismerek az utóbbi évek meghívottjai közül, de akiket igen, azok vagy már patinás nevek (nem csak régiek, hanem jók is), vagy erőteljes karakterrel bíró új reménységek. "Azért" van ez, mert az extrém metal öreg rókái (ha ez nem degradáló) szokták összeválogatni a csapatokat. Sokszor külön a fesztiválra összerakott műsorral érkeznek a zenekarok, tovább növelve az esemény kuriózum jellegét. (Csak hogy képben legyen az olvasó, én nem voltam még soha, persze jó volna!) Alighanem ennek köszönhetően sok roadburnös fellépés hanganyaga elérhető. Így van ez a Windhand zenekar 6 dalos (valójában 5), szűk 40 perces produkciójával is: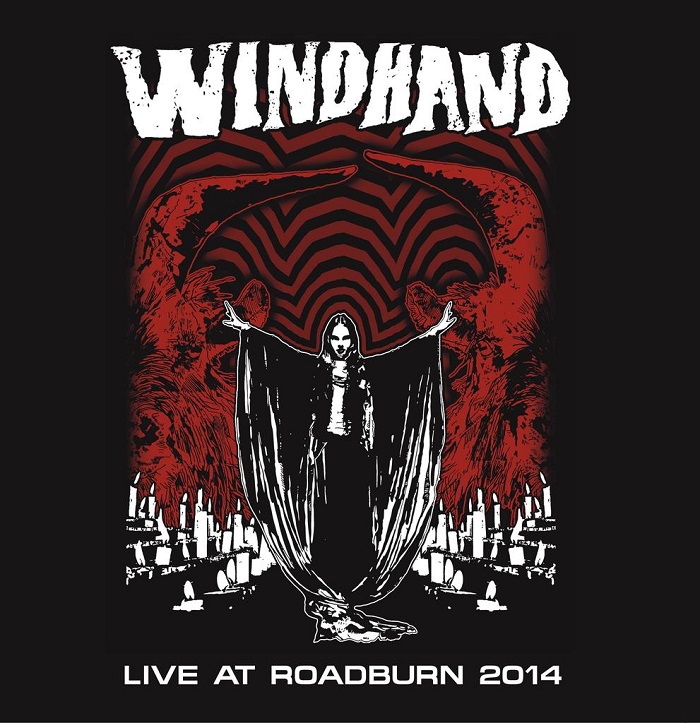 Viszonylag új zenekar, bár egyeseknek (pl. nekem) eszébe juthat a Soma c. albumuk. Bevallom, elég jó a szómemóriám, és így ez megmaradt bennem, meg hogy nem kapott rossz kritikákat, de a zenéjük mibenlétére nem emlékeztem. Elvileg stonernek lövik be a stílusukat, amiben van valami az olajosan csordogáló riffelést tekintve, ám szerintem horzsolóbban szólnak az átlagnál (mondjuk úgy, doomosabb). Az énekben akad valamiféle elszálltság, ami a műfajtól nem idegen, de nem annyira sivatagi a hangulat (bár nem lehetetlen magunk elé képzelni a zene hallgatása közben), sokszor inkább transzközeli állapotot vizionálok. Végülis mindegy, az viszont fontos, hogy az énekesnek nagyon jellegzetes orgánuma van, amivel elviszi az egész produkciót (azért a többiek sem teljesítenek rosszul, a dobos pl. bátran pörget). Nem titkolhatom, hogy több hallgatás után - pillanatnyi kétely nélkül - meg voltam győződve róla, hogy egy magas hangfekvésű férfi dalol, mígnem a borító felébresztette bennem a gyanút, és utánajárva valóban hölgy az illető. Valahogy így az egész vesztett picit a varázsából, nehezemre esne megmagyarázni, hogy miért, nem is próbálkozom vele.
Azt azonban nem hagyom szó nélkül, hogy végig az az érzésem, hogy ugyanazt a számot hallom az egész anyagon át. És nem csak azért, mert nem karakteresek a gitártémák, hanem énekesnőnk is megkülönböztethetetlen dallamokat erőltet folyamatosan, és még a hangmagasságspektrumot is elég szűkre lőtte be (pedig alighanem volna adottsága a variálásra). Elismerem, így is érdekes a hangszíne, a zenének is van egy feelingje, és ilyen hosszúságban még pont működik. Szóval doom rajongó ki ne hagyja a cuccot, ám ha hosszabb távon is "csak ezt" csinálják, akkor bizony nekem ennyi elég is belőlük. Reméljük a legjobbakat!
Windhand - Live at Roadburn Festival 2014 from Hard & Heavy Old on Vimeo.
Ha nem értenéd, hogy hogyan lehet egy kritika ennyire rövid és tartalmatlan, kérlek kattints ide!