Eljutottam a legutóbbival a Top 25-höz. Mint mondtam az elején, itt már sorbarendeztem a műveket. Természetesen az izgalom fenntartása végett csökkenő sorrendben következnek, most úgy tervezem, hogy ötösével oldalanként.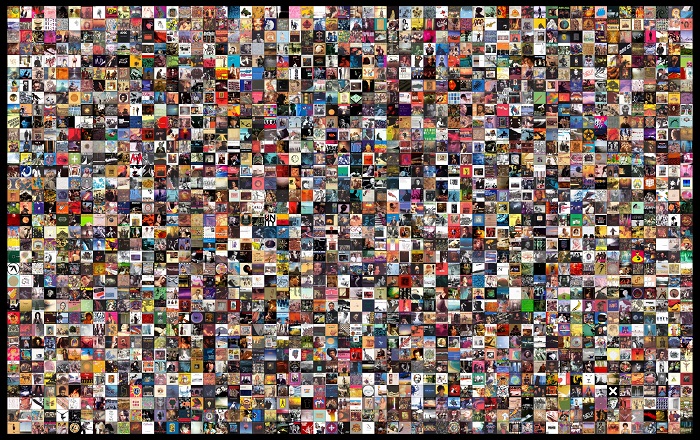 25. Buckethead: Backwards Chimney, Pike 43, You Can't Triple Stamp a Double Stamp, The Coats of Claude, Rainy Days, Roller Coaster Track Repair, Hide in the Pickling Jar, Monument Valley, Pitch Dark, Claymation Courtyard, Factory, City of Ferris Wheels, The Frankensteins Monsters Blinds, The Miskatonic Scales, Cycle, Night Gallery, Outpost, Ydrapoej, Footsteps, Citacis, Outlined for Citacis, Grand Gallery, Aquarium, Hold Me Forever (In memory of my mom Nancy York Caroll), Leave the Light On, Abandoned Slaughterhouse, Assignment 033-03, Category of Whereness, Snow Slug, Celery, Closed Attractions, Final Bend of the Labyrinth, Infinity Hill, Twilight Constrictor, Caterpillar, Bumbyride Dreamlands, Pike 78, Geppetos Trunk, Cutout Animatronic, Carnival of Cartilage, Calamity Cabin, Dreamless Slumber, Whirpool, Walk in Loset, Our Selves, Interstellar Slunk, Red Pepper Restaurant, The Time Travelers Dream, Listen for the Whisper, Sublunar, The Splatterhorn, Coaster Coat, Magic Lantern, Northern Lights, Yarn, Passageways, Pilot, Polar Trench, The Mighty Microscope, In the Hollow Hills
Elképesztő, 60 lemez lett végül Buckethead idei termése, ami cirka 30 óra zene (azért csak az egyik borítóját citáltam ide). Csak ezért is szerepelnie kéne a listán, de amúgy meg ugye zseni, így értékes pillanatokban is bővelkedik az átláthatatlan mennyiségű muzsika. Ha valaki nem volna képben, egy szólógitárosról van szó, aki csodagyerek volt (valójában szavant, azaz olyan autista, akit csak egy dolog érdekel (őt nyilván a gitár), ám abban zseniális), és még soha senki nem látta, mert egy KFC-s vödörrel a fején, és egy maszkkal az arcán mutatkozik csak (tehát könnyen tetten érhető a kattantsága). Furcsa dolgai ellenére nem csak szólóban képes alkotni (idén mondjuk nem volt ideje másra, szerintem enni se), egy rakat lemezt készített a Praxis nevű experimentális rockzenekarral, onnan a Brain nevezetű dobossal, illetve Travis Dickersonnal meg Viggo Mortensennel (igen, azzal a V.M.-nel) rengeteget zenélt együtt ilyen-olyan felállásban. Csomó egyéb projektje van/volt, pl. a nevének anagrammáját viselő Death Cube K is hat lemeznél jár. Sokan tudhatják, hogy a Guns 'n' Roses-ban is megfordult, a Chinese Democracy egyes dalaiban hallható is a játéka. Meg még nem említettem az irgalmatlan mennyiségű vendégszereplést mások lemezein. Szeret kísérletezni hangzásokkal, zajokkal, de komplex metalos riffelésben, szólóvirgákban, nyugis bluesos dolgokban, és sok agyament kreténségben mind-mind otthon van. Legalább néhány cuccába hallgassatok bele!
24. John Frusciante: Enclosure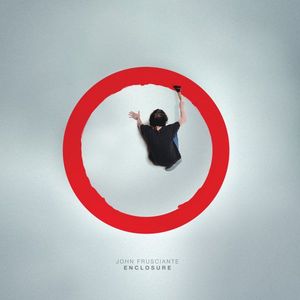 Újabb magánakvaló gitárosszemély, szintén nem ezen a bolygón él. Képes volt néhány éve otthagyni a világ egyik legnagyobb rockbandáját (Red Hot Chili Peppers), hogy a szólóanyagaira koncentrálhasson. Egyelőre nem diktál akkora tempót, mint a feljebb tárgyalt, és van egy olyan nyugis kisugárzása (hogy ne nevezzem extrém lassultságnak), ami alapján lehet, hogy nem is fog különösebben felpörögni (bár az egyik évben neki is volt vagy 6 anyaga). A lényegre térve, az utóbbi időben (a 2009-es The Empyrean album óta) kissé eltávolodtunk egymástól, köszönhetően az igen kisérletezősre sikerült, elektronikus hangszerekre épülő EP-inek. Ezzel az albummal érkezett el oda Johnny, hogy lezárja ezt a zenei fejezetet az életében. Ahogy ő fogalmazott, most jutott el arra a szintre, hogy ebben a műfajban el tudja mondani, amit akar, így ezután kezdhet másba. És valóban, engem is egyértelműen meggyőzött. Átsugárzik az anyagon a régről ismert stílusa, így szintis környezetben egész más - és még különlegesebb - világa lett a zenéjének. Baromi érdekes, ahogy az esetleges, szétesettséget sugárzó d'n'b alapok követik egymást, ő meg hol gitárral, hol szintetizátorral játssza fölé a sajátos, introvertált, mégis barokkos cizelláltságú dallamait, és ezen az egészen terül el a fátyolos, amatőrséget sugárzó, ámde az ember csontja mélyéig ható hangja. Hozzá kell tennem, hogy egy idő után az a benyomásom, mintha nem is különböző dalokat hallanék egymás után, csak egyetlen egynek a variánsait, de ennyi ebből még pont müködik (több meg állítólag ugye nem lesz). Tekinthetjük egy néhány év alatt, sok kísérletezés árán kiépített zenei univerzum néhány pillanatfelvételének. Nem tévedünk nagyot, hiszen maga Fruzsi is nagyjából ezt állítja, és magunk is bele tudunk feledkezni annyira, hogy igazat adjunk neki. Igazi zsenivel állunk szemben, aki még ma is szörnyen törékenynek tűnik, emiatt izgulok érte egy kicsit, továbbá reménykedem, hogy még sok zenével meg tudja örvendeztetni a világot.
23. Petter Carlsen: Sirens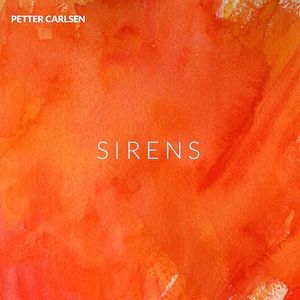 Kezdem a "rossz hírrel": szerintem az előző lemeze jobb volt. Viszont az annyira jó, hogy ettől még ez is lehet messze átlag feletti, és egyéni, mint ahogy az is. Tehát a kockázatosabb utat választotta Peti, és változtatott. Elektronikusabb irányba ment el (na nem lett dance lemez, csak nincs annyi gitár, több a szintetikusabb hangszer), még ha akadnak is rockos alapú dalok, az összképet nézve ez inkább már art pop. Persze nagyon érzékeny, finom, de nem annyira mint a múltkor. Talán nem is baj, mert azt már nemigen lehetett felülmúlni. Igaz, hogy az ember - azaz én - mégiscsak azt szerette volna, de hát nem az én megrendelésemre dolgozik (még!) a fickó. Így ezzel kellett megbarátkoznom, és bevallom nem is esett nehezemre. Ha nem ismered (ami igen valószínű), de szeretni tudnál egy érzelmekkel gazdagon átitatott, törékeny, soulos, sokszor már-már kisfiús énekhangot (tud egyébként karcosabb is lenni, de innen nem fog kiderülni), illetve nem feltétlenül elsőre ható, de varázslatos hangulatot árasztó, intelligens, különleges hangszerelésű, de nem harsányan kísérletező dalokat, akkor ismerkedj meg vele. Ha nem riaszt el, akkor meg nyúlj vissza a Clocks Don't Count albumért, mert az egy igazi csoda. (Volt előtte még egy nagylemez, de nem tűnt akkora alkotásnak még, ha valaki vitatná, éljen bátran a kommentelés lehetőségével!)
22. Gazpacho: Demon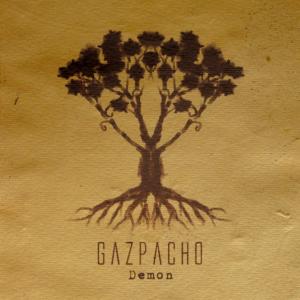 Hja. Ha már így egymás mellé kerültek, nagyjából ugyanazoknak az embereknek tanácsos a Gazpachoval ismerkedni, mint Petter Carlsennel. Számomra több mint 50%-ban az ének jelenti a banda vonzerejét (Jan-Henrik Ohme), de kétségtelen, hogy nagyon ízlésesen és elegánsan zenélnek, kiváló érzékkel hangszerelnek. Aki netalán még nem ismerné őket, a Radiohead, a Marillion és az A-ha azok, akiket elsőként szoktak emlegetni velük kapcsolatban. A Marillion a (neo)progresszív szerkesztésű, sokszor igen hosszúra nyúló, lassan hömpölygő dalok okán, a Radiohead a modernebb, "borultabb" hangulatok miatt, míg az A-ha (aminek a felbukkanása is meglepő lehet, de remélem azért nem riasztó) az énekdallamok, ill. maga az orgánum alapján (persze Thom Yorke és Steve Hogarth is "benne van" a srácban). Annyit nyomatékosítanék még (mert azért implicit módon az eddigiekből kiderül), hogy sokszor átlag felett szép (és törékeny), amit játszanak. Maga a Demon lemez illik a sorba, amit az utóbbi anyagaikkal állítottak. Bár van egy dal, ami nincs 5 perces, az egész mű négy tételből áll össze, így ismét igen monumentális kompozícióval van dolgunk (mintha túltenne még a Nighton is). Míg a legtöbb lemezüknek voltak - szó szoros értelmében - megrendítő, szívszorító pillanatai, a legutóbbi March of Ghosts-on nem találtam ilyesmit. Ennek ellenére szerettem azt is, csak tartottam tőle, hogy kifulladás közelébe értek. Ezen az anyagon sem léptek tovább, így a motívumok legtöbbje már ismerősnek hat, de bőven megáll a saját lábán. És hogy a(z igényelt) katartikus pillanatok visszatértek-e? Többszöri kísérletezés után sem tudom megmondani, azaz biztos nem ugranak egyből a nyakunkba, de a legutóbbi hallgatásokkor el-elkapott helyenként a borzongás. Viszont sajnos rég nem vettem elő, ami az én bűnöm. Így hát nincs más hátra, minthogy azt javasoljam: aki csak kedvet érez, mélyedjen el a Demonban, és próbálja maga megtalálni a csúcspontokat!
21. Schammasch: Contradiction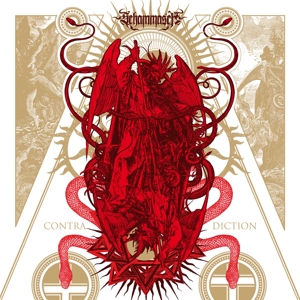 Egy, de talán két tucat black metal lemezt is meghallgattam az idén, és ez a svájcból érkezett album már elsőre különleges volt köztük. Manapság ez az egyik legnagyobb erény a műfajban, mert igencsak telített mindegyik működő ága. Kifejezetten jó a hangzás, és sajátos mágikus hangulatot áraszt az egész (nekem ez már nem is annyira gonosz, mint sötét, de átlag halandó persze messze kerülje el...). A gitártémák sokszor egész kreatívak, vokálisan is többminden történik a szokásosnál. Ezek után mondanám, hogy senki se hagyja ki, akinek már kihűlt a szíve. Azért nem árt tisztában lenni vele, hogy a dalok átlagosan tíz perc körüliek, és így a teljes anyag 85 perces. Azaz mindenképpen kihívást jelent. Bár aki egyébként ilyesmiket hallgat, az elvileg edzett kell, hogy legyen, a Contradiction meg megérdemli a figyelmet. Úgyhogy mégiscsak: minden érdekeltnek ajánlom!
Egyelőre itt tartunk most, hát nem olyan egyszerű 50-ig eljutni, mint gondoltam (és közben már bővíteném ám a listát...) De azért a jövő héten csak a végére érek! (Nem szerencsés, ha ígéreteket teszek, nem is szeretek, illetve, van, hogy - nagy naivan - mégiscsak szeretek, viszont aztán meg szoktam járni. Úgyhogy vegyük úgy, hogy nem mondtam semmit!) Találkozunk legközelebb!