Mert március 8-án In Times címmel az új lemezük az alábbi borítóval: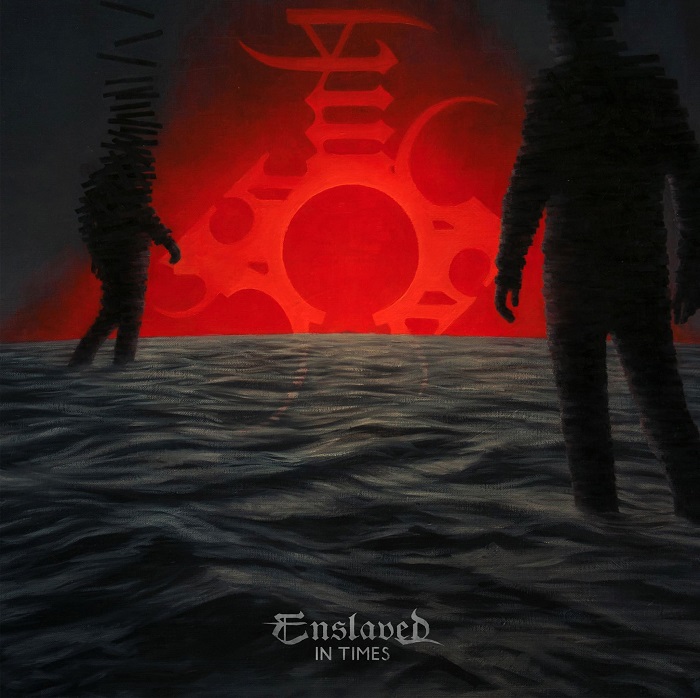 lesz elérhető.
Grutle Kjellson és Ivar Bjornson - jó ideje szűkebb kategóriákon túlnyúló - extrém metal zenekara most a megszokottnál hosszabb kompozíciókban gondolkodott, és komoly progresszivitást rebesgetnek. Amivel én azért csínján bánnék, mert a legutóbbi igazán előremutató anyaguk a Monumension volt 2001-ben, amelytől úgy érzem, maguk is megijedtek. Illetve mintha a közönség nem tudott volna velük menni :(, és utána a Below the Lights ha nem is hátraarc volt, de egy jóval biztonságibb irányba terelte a csapatot (érdekes, rögtön nagyon népszerű is lett, a 'milyen jó is ez az irtó progresszív banda' felkiáltással...). Igaz, azóta eléggé kiterebélyesítették ezt az új világukat, és a később csatasorba állított Herbrand Larsen tisztánéneklő létjogosultsága is több mint beigazolódott. A túlzottan direkt nótákat az Isa óta - szándékoltan - hanyagolják. Volt még egy progresszívabb kísérletük, azt a Vertebrae-ben tisztelhetjük. Nevezettet követően egy újabb óvatoskodó (ámbár nem túl jelentős) hátrálást követően elsőre nem sok újat nyújtó, de további odafigyeléssel alaposabb kivesézésre érdemes míves-progos (de nem experimentális) kompozíciókat kaptunk. (Amikbe tudom, nem ástam bele magam kellő mélységben, de hiába, még mindig azt szeretem többnyire, ami igazán egyéni/különleges.)
Na jó, nem akarok kritikát írni a lemezről, mert még egy hangot nem hallottam belőle. Bár legalább nem kell majd ezt a fejtegetést kiszenvednem magamból akkor, amikor tele lesz a fejem (persze, höhö) az új album hangjaival.
Azt akarnám kinyögni, hogy örülnék neki, ha nagyon különleges volna, de nem nagyon tudok bízni benne. Ám ha nem is lesz az, attól még lehet jól sikerült, akár jobb is, mint az utóbbi féltucat.
Végére hagytam a dalokat (ez is féltucat, lehet, hogy alaposan utána kéne olvasni a 6 valódi ezoterikus jelentésének, hogy megtudjunk valami igazán lényegbevágót az In Timesról):
01. Thurisaz Dreaming
02. Building With Fire
03. One Thousand Years Of Rain
04. Nauthir Bleeding
05. In Times
06. Daylight
A továbbiakat CSAK AZ OLVASSA EL, aki úgy érzi, hogy a cikkel valami nem volt rendben!
Ui.: Itt (és máshol is) bizony tudok róla, hogy súlyosan megsértem azt az újságírói elvet, hogy a híreket (mint tényeket) külön kell kezelni a véleménytől (aminek mondjuk kritikában, vagy egyéb tematikus cikkben volna illő hangot adnom). De: míg pl. közügyekben az ilyesmit magam is súlyos véteknek érzem (cserébe ezen az oldalon az nincs, és nem is lesz), itt szerintem belefér bizonyos szintig (nem akarok ámokfutásba kezdeni, szerintem értelmesen benne vannak a tényadatok, emellett jogos szerepeltetni, amit fellebbentenek az anyagról. Az viszont már egy vélemény/ígéret stb., nekem meg jogom van ezt kommentálni. Igyekszem úgy tenni az ilyet - ha egyáltalán -, hogy ne legyen komoly befolyásoló hatása. Ám ha valaki ezzel nem ért egyet, és hajlandó venni a fáradságot, hogy rámutasson, hogy miért nem kéne ezt mégsem tennem, tegye, örömmel veszem). Persze azon túlmenően, hogy ez az ÉN BLOGOM, meg hogy SENKI SEM OLVASSA, azért mégsem szándékozom értékelhetetlenné tenni.
Uiui.: Azért nem vagyok annyira gyökér, hogy ne lennék tisztában azzal, hogy eleve nagyon szelektáltan közlök híreket, és ezzel már nagyban torzítok, meg amúgy is, hacsak sikerül, telenyomatom a hülye stílusommal az egészet. Ezeken viszont nem áll módomban változtatni, és akinek ez problémája, az vagy ne, vagy ne ezért olvassa, vagy legalább ne lepődjön meg... mert ha nem így írnám, nem én lennék.
Uiuiui.: Nyilván csak túlkomolykodom ezt az egészet, ennek itt alighanem semmi jelentősége sincs, néha rámjön egy-egy agyvihar, olyankor írok ilyeneket...