Az Earth zenekar a drone doom atyja. Viszont a műfajtól már jó ideje eltávolodtak. A doom máig megmaradt, de egyre közelebb kerültek a hagyományos rockzenéhez a lemezeiken. Bevallom, én csak az utóbbi néhányat hallgattam meg becsületesen, de azokat sem alaposan. Kifejezetten pozitív emlékeket őrzök róluk, különösen a Hibernaculumról. Ami biztos, mindeddig nem túl bonyolult, de elég innovatív instrumentális zenében gondolkodtak, amiben stoner ill. post rock/metal felől közelítve találhattunk kapaszkodókat. Mostanra némileg megváltoztak a dolgok.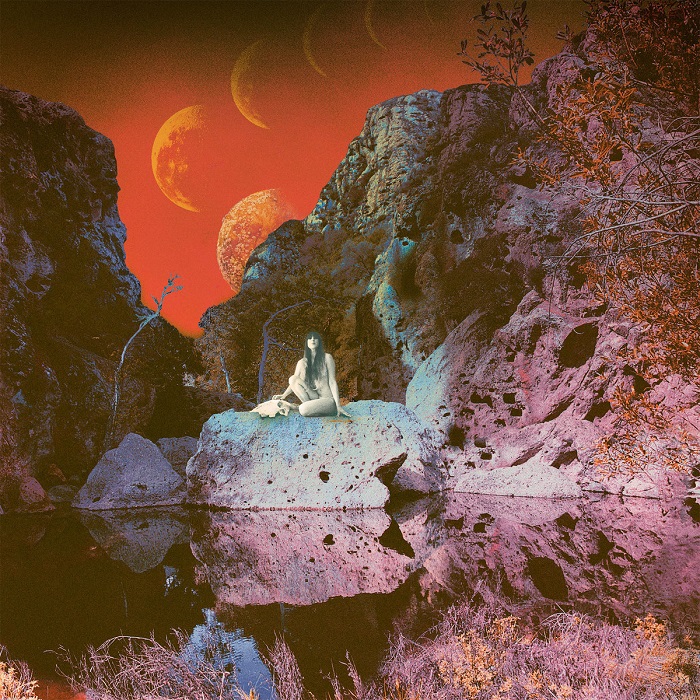 A bő háromnegyed órás új anyagon ugyanis énekelnek az ötből három számban is. Nem akármilyen újítás ez, nem igaz? Ez a tény mintha a zenén is módosítana, bár megvallom, csak halovány emlékezetemből mondom ezt, mert nem átallom most nem újrahallgatni a régebbi dolgokat. Szóval úgy rémlik, hogy valamivel izgalmasabbak, vagy legalább különlegesebbek voltak a hangszeresek az előzőekben. Persze ezt könnyen feledtetheti egy megfelelő hang, és többé-kevésbé teszi is.
Kevésbé azért, mert az instrumentális dalok magukban nem túl nagy eresztések. Rögtön ilyen a(z egyébként érdekes című) nyitó Torn by the Fox of the Crescent Moon. Azért nem igénytelen, van kis hangulata, meg - elég minimál - doomos riffelgetés, de ha ilyenek egymásutánjából állna az egész anyag, azt meglehetősen kevesellném. Mert azért az utóbbi négy évtizedben ezt már sokezren eljátszották (ugye a Black Sabbath-tal kezdve a sort).
Aztán elkezdődik a második dal, és egy pillanatra azt hiszem, hogy Nemtheanga Dread Sovereign projectjét hallom. És ugyan ez csak egy gyorsan múló benyomás, annyi igaz belőle, hogy nem kis név áll a mikrofon mögött. Nem kertelek tovább, Mark Laneganről (Mark Lanegan Band, Screeming Trees, Queens of the Stone Age stb.) van szó. Szokatlan doom metal közegben hallani őt, de természetesen több mint megfelelő a szerepre a rekedtes-füstös hangja. Bár nem élete legnagyobb teljesítménye az itteni (nekem azok közé tartozik a Flatlands feldolgozása Chelsea Wolfe-tól, és a Café Tim Buckley-tól, hogy csak kettőt mondjak hirtelen), attól még kellően érdekfeszítővé teszi a számot.
A harmadik tételben egy hasonló karakterű hang szólal meg, de kicsit magasabb fekvésben. Nem véletlenül, az előadónk egy nő, nevezett Rabia Shaheen Quazi, akit a Rose Windows éléről ismerhetnek a seattle-iek. Úgy értem, nem tudom, van-e valaki Magyarországon, aki hallott már róluk ezidáig. (Bevallom, én azóta már meghallgattam az eddigi egyetlen anyagukat.) Kellemes hangja van a hölgynek, illik a zenéhez (és bár fel lehet ismerni, máshogy énekel itt, mint a saját zenekarában, ahogy a zenei közeg is más). Azért arról nem tudok beszámolni, hogy egy fantasztikus, csak arról, hogy egy elég jó hangú énekesnőt ismerhetünk meg személyében, aki az itteni szereplése alapján pályázhatna a mai retrotrend okkult női szakaszának új üdvöskéje címre. Ha írok a R.W. lemezéről, abból majd kiderül (vagy ha netalán valaki meghallgatná), hogy ez a veszély - szerencsére - nem fenyeget.
Utolsó előttinek újabb instru darab következik, egy hangulatos, ám elég egyszerű gitárszólódzsem. Mit mondjak, nem Earthless szint. Azért, hogy a hivatalosan a zenekarhoz tartozó emberekről is mondjak valamit, a gitár hozza a témákat általában (most épp a zárószámot hallom, itt van egy kis moog rásegítés is), amik fel-feltornásszák magukat erős középszerre. Ezeket szigorúan csak kíséri a basszus meg a dob, minimálnál is minimálabb módon. Nem tudom, hogy mindez tekinthető-e dicséretnek részemről, talán nem.
De sebaj, a végére Lanegan bácsi visszamászik a hangfalainkba, és ezzel emlékezetesebbé teszi a lemez lezárását. Egy kicsit talán szellősebb a téma mint a másik közreműködésénél, és egy fokkal jobban érvényesül a zsenije, de ebben sem vagyok biztos. Viszont aki idáig eljutott, már úgysem fogja kikapcsolni.
Összességében kapunk kis híján féltucat kábé egyforma hosszú, kábé egyformán lassan döcögő szerzeményt, amit esti ital melletti beszélgetésekhez háttér-, vagy ebéd utáni szundításhoz kísérőzenének bárki számára jószívvel ajánlok. Komolyabban odafigyelni csak az énekesek alatt érdemes, olyankor jobban működik a dolog. Ha koncertre is el tudnák vinni őket, annak biztos hihetetlen feelingje volna.